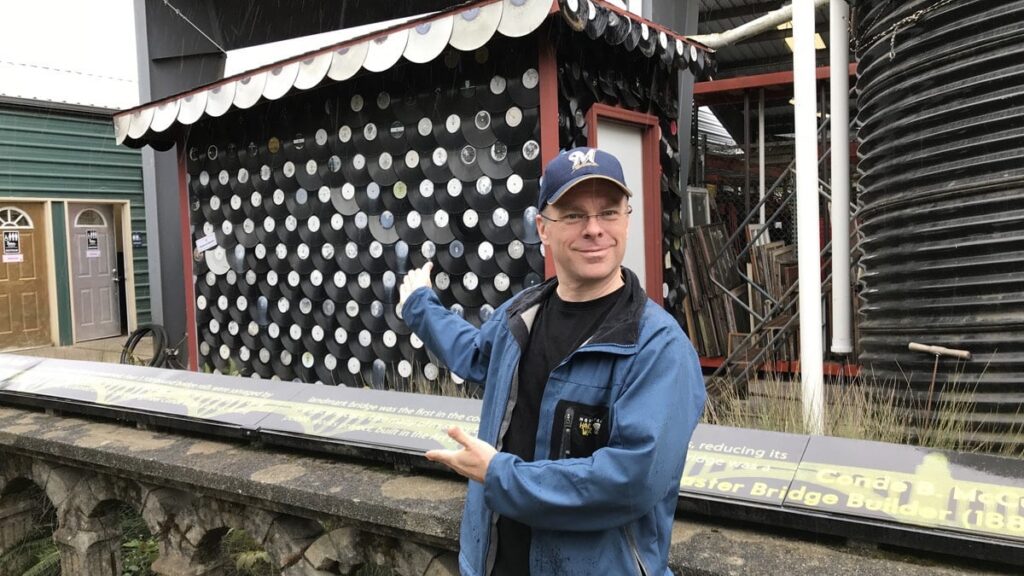 Welcome! I work with people who want to get unstuck by becoming a better version of themselves. My approach to working with clients has been influenced greatly by the compassion of Carl Rogers, the cognitive-behavioral skills of Aaron Beck and the wisdom of Pema Chödrön. I use both Cognitive-Behavioral Therapy (CBT) and am a Certified Gottman Therapist.
Of course, that's the boring stuff. Let's try that again with something more interesting:
Eugene is my home town.
I graduated in 1992 with a Master's Degree in Clinical Social Work.
I learned to drive a stick shift on the hills of downtown Seattle.
Growing up with three younger sisters, I've never learned (or cared) to understand the rules for football.
I'm pretty good with Star Trek trivia.
I both love, and shudder at, the 80's.
My two favorite books for personal growth are The Alchemist and Who Moved My Cheese (only 95 pages; you can't beat that).
For those that are fans of the Myers-Briggs, here's my results (INFP):
I feel strongly that real, genuine change can happen when we remember and respond to these Essential Life Skills:
Accept yourself and your situation as they are in order to know where to begin (what we avoid imprisons us).
You must be curious to learn about your hidden thoughts and motivations, without assigning blame – this part is tricky.
Have compassion for yourself and stop trying to prove yourself.
Let you past inform your future, but not control it.
Our thoughts and actions can directly affect our emotions.
How we respond to a situation is just as important as the situation itself.
Personal growth can be difficult to achieve when pursing dreams rather than goals.
How we talk to those we care about is more important than what we talk about.
You can read more about these Essential Life Skills below.
Coaching vs. Therapy
I work with both therapy and coaching clients across the globe. The feedback I've received from my clients is that by far, they prefer coaching over therapy. Coaching is more direct rather than the "how does this make you feel" bit that tends to be associated with counseling. It excels at helping people overcome roadblocks that prevent them from fully living their life.
The big difference between coaching and therapy is in how we approach problems. In therapy, we might deal with a fear of being judged by others by examining what led you to that point, discussing your underlying hidden feelings and attempt to change how you view this fear. With coaching, we would tackle the fear of being judged by looking at how your fear of being judged is impacting your life, identifying what meaningful change would look actually like, and developing specific strategies to tackle and overcome this fear.
I do my best to integrate each of these approaches into your sessions, so that you get the best of both worlds.
Client Testimonials
Before I felt like I had hit the end of my rope, everything felt like a complete spiral with no idea where to begin to climb out. Now I am trying to become aware of what's happening and why and then what to do next.
I like the idea of a more proactive, aggressive approach to problem solving and it sounds like I can find that here.
Before, it felt like torture to be in my own skin. I beat myself up for everything and guilt ruled my whole life. When I started, I couldn't cope with life at all. Now, I'm not beating myself up compulsively and I feel hopeful about the future for the first time in a long time.
At first, I was afraid of conflict. I always assumed other people know more than me and that if we disagreed on something, they would leave me. Then, I learned to trust my opinions enough to voice them and how to stop worrying about saying something wrong. Now, I can be uncomfortable during conflict without being overwhelmed or waiting for it to pass or for someone else to resolve it. It's so much more comfortable a feeling than what I've been living with up until now.
I've had many other counselors over the years and I chose you because of your focus on CBT (Cognitive-Behavioral Therapy). But, I really relate to your more analytical, organized, solution focused approach verses just letting me talk and you listen. It feels more pragmatic.
I used to feel like a complete mess. I felt lost. Every emotion and thought I had felt wrong. I felt totally lost like I was drowning. I was so uncomfortable and very unhappy. I was starting to lose myself and everyone else that I cared about. After working with Dave, I learned how to be mindful and talk myself out of my spiral of endless worry. I don't feel so completely lost or crazy. Instead, I feel more normal, more at peace. I'm not totally fighting myself at every turn.
I used to worry about what my coworkers are thinking of me. I was worried that they were going to think I'm not good enough or mean. At the same time, I did't want them to think I was too happy or too bubbly. Dave helped me so that I'm no longer stuck inside of my head. Now, I can interact with my coworkers without being consumed by my own thoughts.
I can't say enough good things about working with Dave. The progress I'm finally making – after years of trying – is improving my life in ways that I was beginning to think was never going to happen. I finally got to the point that I was ready and willing to put the hard work in. Dave has a seamless way of guiding and directing you to books, exercises, and things to ponder throughout the week to help you discover the road to better mental health on your own. An efficient, effective road to self-discovery. But, I learned you have to put the work in. The work you do is the engine propelling you forward. Dave is the Captain guiding you to safety. Put the work in, and Dave will meet you there step for step. He is extremely knowledgeable, professional, encouraging, and compassionate. I have and would HIGHLY recommend Dave.
Essential Life Skills
This may be hard for you to hear: Your life will never change just because you want it to. There's only so far you can go just by hope alone. Instead, you hit against the walls of doing the same thing again and again. Left unchecked, our actions can keep us stuck in limbo forever.
The two most valuable strengths that you have to avoid this trap are genuine hope and tangible skills. It's not your relationship's history, the circumstances of your life or how good or bad the people around you are. It's the attitude and energy you bring to the table by taking charge of your life and navigating the ups and downs that follow, and the specific tools you use to implement your new skills.
Why is it so Hard for us to Change?
One of the most important secrets I want you to know about is in how you think about yourself, your life, and those around you. How you view things matters more significantly than you could ever realize. I'm not talking about lying to yourself about your issues or your circumstances. Instead, I'm wanting you to simply be more realistic in your thinking.
Having an optimistic and positive attitude when things get tough will keep you alive. It opens up more opportunities than you could ever possibly imagine. Not just when things are good, but also when you find yourself stuck or struggling to cope.
If you approach life with an attitude that you can handle whatever is thrown at you, you're much more likely to survive in the end and come out far ahead than those that don't. Being able to face our fears without letting them choose for us. Being able to turn our dreams into reality. Having a direction. Not being stuck.
But sadly, that's not what many people end up with. Sometimes it's as simple as thinking that we'd be lying to ourselves about how bad our situation really is. It can be a fear of what might happen when the other shoe drops. Or believing ourselves to be unloveable. Whether this is a result of our past, depression/anxiety or simply the the ups and downs that are inherent in life doesn't really matter. In an effort to be "realistic" and "honest", we shoot ourselves in the foot. This sort of negative thinking ends up being the very thing that keeps us stuck forever.
The Lies We Tell Ourselves
I've worked with many clients throughout my career. And I've noticed that those that tend to narrate their life in terms of the negative often struggle significantly more than those that don't. You might struggle with fears about "what might happen". Or stuck in a loop of stipulating your positive thoughts with negative statements. Thoughts of personal failure or blame. Being so angry, frustrated or embarrassed that nothing in your life has changed. Fear that taking care of yourself would be selfish. That you don't deserve love. Or you're worried that nothing will ever change for you.
This is important: Stop focusing on what you fear, or the path you've chosen or what you should have done instead. Stop beating yourself up about how you're "not good enough", undeserving of love, or about how you're stuck. The secret to genuine change requires that we start with one key ingredient: To stop being paralyzed by the negative energy of fear, guilt and shame.
I genuinely believe that what we avoid facing has the power to imprison us forever. Fear, anger, and shame are often the main obstacles to true happiness. They trap us into doing the wrong things (or not making any change at all) and cause us to miss out on the smart choices that can actually propel us forward in life.
I am asking you to face life with a different point of view. To let go of any fear, shame or anger that lurks in the corners of your mind.
Taking Control of Your Own Path
You can't rewrite history, undo your choices or guarantee certainty of a particular future. But in terms of your mental health, you do have significant control over how you will live right here, right now. There is so much you can (and must) do before you can actually unlock your full potential. For those already on this path, being able to reflect and re-evaluate your approach can make the journey ahead even more rich and rewarding.
I work with those that are struggling with their purpose, those that feel stuck and those lacking a path forward. Those that are worried, fearful or anxious. I know you need help navigating the path ahead. I've guided people toward happy and secure relationships with themselves and others, and now it's your turn. To learn concrete strategies. What to do and what not to do to actually change. To be genuinely challenged to your full potential. But honestly, none of that really matters if you can't master this one essential concept:
The only way to move forward is through action.
Your optimism and determination will be what transforms your dreams into action. It will propel you and those that you love forward towards a better life. That means no longer focusing on the past as you move forward. Grab onto what you you have today and what you can do to create a new beginning for tomorrow.
It's true that therapy can't solve all of life's problem. It won't stop the bad behavior of another person, it can't make you stop excessively drinking and it will not overhaul a serious lack of empathy or compassion. Some situations, like responding to domestic abuse, are not issues to simply discuss but rather actions that need to be drastically undertaken. Some behaviors have long, drawn out family history patterns that may be difficult or impossible to change by simply improving your communication skills or self-esteem. In the end, not all problems are worth the time it takes to make a dent in the situation through therapy.
But for many people, therapy can be a lifesaver. It can guide and propel you forward. It can challenge you to be a better version of yourself in ways you've yet to imagine. Help you face your fears and examine the places that scare you with intense scrutiny so that you are no longer trapped.
Avoid the Trap
The catch is to make sure to take the right kind of action. This is where therapy can excel. For example, we often fall into the fallacy of thinking that action equals progress. This type of trap (often referred to as the Politician's syllogism) looks something like this:
To improve things in our lives, we know that something must change.
We happen to be changing something in our lives.
Therefore, we believe that we are improving things.
In other words, right action is better than false action (i.e., fooling ourselves). Again, having a therapist who can help call you on making dead-end decisions or who can call you on your own behaviors actually matters.
Don't Be a Victim
A few years after I became a therapist in private practice, a client of mine found herself deeply struggling. She'd been through years of therapy with no real progress. Her life hadn't yet taken off in the way she had expected it to. She had a very difficult past with a serious lack of any healthy relationships, and as a result she held people at a distance. In essence, she struggled to get any real traction in her life. When we looked at her life, it was interesting to find that she seemed to always have a reason why things could never change. Every opportunity for growth became a roadblock in her mind. In fact, she would rather not move forward with some risk even though she found it intolerable to stay where she was at. She was stuck living her life as a victim, and not as a survivor.
Her situation dramatically improved when she made one simple change that had evaded her for years: Viewing her situation as uncomfortable rather than intolerable.
For her, that subtle shift gave her the permission to actually move the pieces of her life in a way that she had control over. She grew and became more confident in herself, and her relationships with others changed almost overnight when she stopped indulging in her view that she was utterly powerless.
And what really changed for her? What made the difference in the tangible improvements of her life? Simply put, it was the subtle shift of changing her point of view from being helpless to being someone empowered with choice. Situations being viewed as difficult, rather than impossible. This development of her resilience didn't even require actual changes to the circumstances in her life at first; rather, the change was inside of her, without lying to herself. By simply being more realistic in how she looked at things. By focusing on what she could control rather than what she couldn't. And it changed everything for her.
And she did make it. By making smart decisions about her life, by looking at situations from a different point of view and by having the boundaries to choose who she allowed into aspects of her life rather than being powerless when others treated her poorly. She focused simply on what she had and what she could have in the future.
Don't Get Stuck in the Past
For you to live the life you deserve, you'll need to let go of the past. I realize that this might feel unfair to hear. There may have been things that happened that never should have happened to anybody. Or maybe it was a divorce, or growing up in an unhealthy and chaotic family. Maybe COVID changed your work in such a way that you are still digging out financially. Maybe you are genuinely grieving the knowledge that you have more emotional awareness than your parents ever had. And all of these things are valid. I truly get it. Issues like these can suck the life force out of you as well as alter the focus of your life.
But here is something I would like you to do every time you are overwhelmed, feeling stuck or afraid. I want you to take a moment in time to breathe, and then simply say these words out loud to yourself:
I will survive this. My feelings are not dangerous; they are my strength. I am not alone. I choose to grow. I refuse to be stuck anymore.
Now, I know that there are those that will take issue with this. "What are you saying, Dave? That's the stupidest advice I've ever heard!" To which I gently sigh and say softly but firmly, "Yep, that's what needs to be done." Because here's the truth: If you cannot pick yourself up, if you cannot start taking control of your life, if no one is going to rescue you, then who is going to do it for you?
Think about it. Who is going to actually save you while you're adrift in your life? The unfortunate answer is no one. That's why how you think about the problems in your life directly affects the quality of the life you live and experience. And again, we're not talking about lying to yourself; we're just talking about being more realistic.
But why a survivor, and what if you actually are alone? Why did I select this phrase for you to use? Because I want you to take control of your life. I want you to have the courage to tackle the fears that have kept you stuck. To move forward and not give yourself any excuses to stay put any longer. And because you need these reassuring words to strengthen your determination since life is not always that easy.
Ask for Help When You Need It
You have more power than you realize. It's in all of us. What's missing are the skills that will propel you forward. If you need help, I can be there with you along your path. Together, we can tackle the struggles that try to derail your life to the side so that you can actually life your life rather than having it lived for you.
The ultimate outcome of all of this should be to live a life where you are truly happy. However, I don't want you to pursue happiness as a goal, since happiness is actually a byproduct of our achievements. I also don't want you to stay stuck in a situation just because you believe there is no way out. Years can pass by with nothing changing. At all. You deserve more than this.
I can be there to help you change all of that. No matter where you are in your life or what struggles you've been forced to endure. I hope to be an ally who you find will help you grow and change the direction of your life.
I come from a multi-generational family of therapists and psychologists and have "breathed the air" of psychology, so to speak. I work with those that are struggling with their relationship with themselves, their partners and others.
Are you ready to get started on your journey today?
---